Use this page to download the latest version of JPA Designer and the most up-to-date manuals.
A button link to the latest version of JPA Designer is also available at the top of every page.
Available downloads
Latest version (for users with a current annual SAP or Uvalue licence*)
JPA Designer: U-value and SAP 9.90 (2009) Version 5.04a1 onwards (5.5 MB)

Fixed version (for users without a current annual licence*)
JPA Designer: U-value and SAP 9.81 (2005) Version 4.04a1 Build 013 (12 MB)
* Uvalue licences came into effect February 2010.
* SAP licences came into effect May 2008.

Manuals and Guides
JPA Designer User Manual 5.01 - for U-value and SAP 9.90 (2009) (2.5 MB)

JPA Designer User Manual v6 - for U-value and SAP 9.81 (2005) (2 MB)

Guide to lodging EPCs with JPA Designer (October 2012)
PV and Wind Turbine Payback Calculator User Manual

Some IT security systems and firewalls block downloads of program files: if you have any problem downloading the software please email support@techlit.co.uk to request a demo CD.
Technical notes

Technical note 2013/01

Internal environmental conditions for condensation risk analysis

Technical note 2012/04

JPA Designer and Windows 8

Technical note 2012/03

Complex bridging

Technical note 2012/02

U-value templates

Technical note 2012/01

JPA Designer version 5.03a2

Technical note 2011/03
(version 2)
Revised arrangements for issuing Energy Performance Certificates with JPA Designer
from 17 April 2011

Technical note 2011/02

How to add the logo for the BBA U-value and condensation risk competency scheme
to print-outs and PDFs produced in JPA Designer

Technical note 2011/01

Guidance on the calculations required for the Low Carbon Homes Scheme
in Northern Ireland

Technical note 2010/02

Identifying the causes of EPC lodgement failures

Technical note 2010/01

Not a valid date error message and corrupted display solution

Technical note 2009/01

Resolving problems when saving files (error type 5) & lodging EPCs (object is read only) in Vista and Windows 7
Evaluating JPA Designer
If you want to evaluate JPA Designer you should download and install the latest version of the program. The program will run in demonstration mode, allowing you to use all its functions; however, you will not be able to see the results of your calculations. U-values, DER's and TER's will appear as 0 (zero).
Existing users
If you currently use JPA Designer and have purchased and annual SAP or Uvalue licence you can download the latest version of the software from this page. For users with version 5.03a1 and older, you will have to uninstall the old version using the Windows Add/Remove Programs control panel before installing the new version: that will remove the old program files, but will leave your projects, user database and key codes intact.
If you have not purchased an annual licence or your licence has expired, DO NOT install the latest version as this will only work in demo mode and you will need to purchase a new licence to unlock the software. If you install the latest version by mistake or you need to reinstall your existing, unlicenced software, use the fixed version above - your existing keycode will still activate this version.
You may also want to download the latest version of the manual.
How do I find out which version of the software I have installed?
You can check which version of JPA Designer you have by opening the software then selecting Help > About from the menu bar. You can then compare that with the version number shown above. Note that 4.03a1 would be later than 4.02b1 and that 4.04a1 build 029 later than 4.04a1 build 012.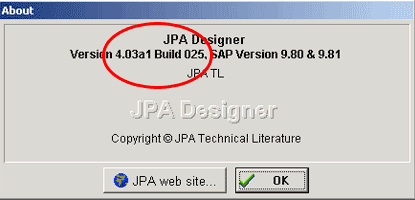 JPA Designer version number